We took a quick 3-day / 2-night trip to Hanoi, Vietnam, in October 2015 while Beth's mom was visiting us in Bangkok. I had heard a lot about Hanoi, and as it seemed everyone either loved it or hated it, I was excited to find out for myself.
Vietnam is one of the first countries I've ever visited where I had to obtain a visa prior to travel, which I did online through vietnamvisacorp.com. I booked airfare through AirAsia and flew out of Don Muang airport, which is cheap and convenient from our condo in Bangkok. Our accommodations in Hanoi were at the InterContinental Hanoi Westlake at the recommendation of a colleague, and it was wonderful: conveniently located, beautiful lakeside views, and helpful staff.
One of the first things that struck me about Hanoi was the diverse, almost mismatched architecture. On the way into town from the airport we saw endless clusters of 5+ story, skinny, colorful houses stacked on top of one another. Tucked away between the Vietnamese style houses, there's many beautiful, well-preserved buildings dating from the French Colonial era, including the Presidential Palace and St. Joseph's Cathedral. We spent a few hours wandering around looking at interesting buildings, tree-lined streets, and wide-open plazas in the area around Ho Chi Mihn's Mausoleum — which unfortunately, we were unable to enter due to the short time of our trip. You must arrive there pretty early in the day to get inside for a tour.
The traffic in Hanoi lived up to its reputation as being organized chaos. Motorcycles and cars create a constant soundtrack of honking and sputtering engines. Crossing the street is no small task. Despite this, we found taxi drivers to be very helpful and accommodating, and found getting around to be easier than I expected in a city with no public transportation to speak of.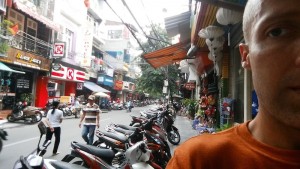 The Food we ate during our time in Vietnam was simply outstanding, and those who know me know that eating is always the highlight of any trip for me. We ate Pho at a roadside stand near the InterContinental, at a French cafe on H? Tây lake, at the City View Cafe overlooking H? Hoàn Ki?m Lake, and snacks at various coffee shops and bakeries around the city.
It seems that most of the city's attractions for tourists are located around one of two lakes, H? Hoàn Ki?m ("Lake of the Returned Sword") and the much larger H? Tây ("West Lake"). We spent quite a bit of time wandering through the maze that is the Old Quarter, browsing through shop after shop of mostly homemade goods. The organization of the Old Quarter was really fascinating to me, as each street loosely specialized in something, such as clothing, shoes, food, metalworking, produce, live animals, whatever. Each shop on these themed streets was then very distinct from its neighbors; if you need a shelf you would go to the large metal items shop on the metal items street, as opposed to next door for metal birdcages, or the next shop over for silverware. It seemed to have an underlying organization to it despite the chaos.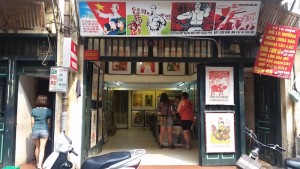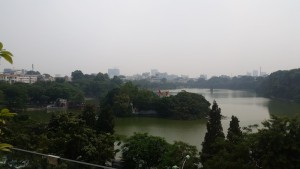 We also went to visit the Hua Lo Prison, which is best-known in the USA as the "Hanoi Hilton", where John McCain and many other U.S. soldiers were held as POW's during the Vietnam war. Most of it has now been destroyed to make way for a large hotel next door, but the remaining sections of the prison have been converted into a museum that explores its history. It was interesting to learn about the Vietnam war from the perspective of the Vietnamese — a good reminder of how both the "official" account of any historical event can be full of bias and propaganda, depending on who you ask.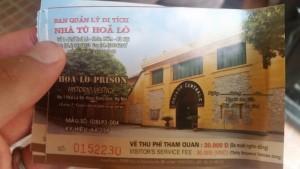 One of the best parts of the trip for me was going to see a Water Puppet Show — something we kind of stumbled across as we were wandering around one day — at the Thang Long Water Puppet Theater, which was very close to the City View Cafe. Puppeteers do some truly outstanding tricks using puppets that swim, dance, and play on and underneath the water, while being accompanied by a live traditional Vietnamese ensemble.
On the final evening of our trip, we took a final sunset walk around H? Hoàn Ki?m Lake. As we were walking, a man came up to us and asked if we spoke English. He then asked if we'd be willing to chat with a group of University students who come out to the lake three times a week to practice their English with each other, and the occasional tourist that comes by. We agreed. We ended up sitting on the edge of the lake chatting with about 20 Vietnamese University students. They asked wonderful and hilarious questions, ranging from "what is the real meaning of Nicki Minaj's song 'Anaconda'?" to "What is your opinion on the Trans Pacific-Partnership?" At an emotional point in the conversation, one student asked me "Were you taught to hate and fear Vietnam and our people, because of the American war, when you were a school student? Do American people think we are an enemy?" They all got very quiet and stared with great concern about this. We had a moving discussion about how people are people everywhere you go, and even though some might have different opinions and beliefs about specific issues, most people all really want the same thing: to feel safe, to have good jobs, to fall in love, to take care of their families, etc. After reassuring them that I thought they were all wonderful people, one quiet young man exclaimed "I so excited to go to Texas and meet many nice American like you!"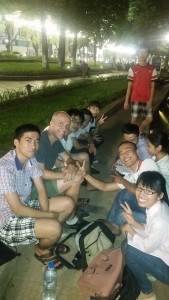 Hanoi was a wonderful experience, and I absolutely hope to return to explore this charming city again. Hanoi is one of those incredibly unique cities that has a dynamic and an energy all its own.